FW: Wall-Floor-Window
Positions (2020)


In his single-channel video work Wall-Floor Positions (1968), artist Bruce Nauman presents various ways of placing, moving, measuring the relationship between the artist's body and a spatial dimension defined by the vertical (wall) and horizontal (floor) in a domestic setting, through an eye of the camera. This work's been recognised pioneering by art historians for how the artist works with the notion of expanded choreography that straddles the visual and performative art contexts.

The making of this "video-dance" was simple, and there was no live-stream culture and the necessity of having audiences to witness Nauman's performance through a window.

Taking Nauman's work as a point of departure, as the project title suggests, "window" is the added aspect to propose a performance space together with a piece of "wall" and "floor" while performing for the webcam. The project FW: Wall-Floor-Window Positions rethinks how the internet and real-time settings today inflect performance and dance artists' cyberspatial and staged cognition, how the virtual co-presence between artists and audiences shapes the performativity and considers the agency of web medium as the social, political and pornographic existence.

Through 3 one-off and live-stream performances, invited artists will be responding to this proposition and forwarding their concept with various spatial and corporal approaches. Each of them will present a 5-min solo, followed by a post discussion with fellow artists.



concept & curation: River Lin
participating artist: SCarlet Yu, Lin Yen-Ching, Lin Yu-Ju, Liu Yi-Chun, Venuri Perera, Chiharu Shinoda , Takao Kawaguchi, Daniel Kok, Lee Tsung-Hsuan, Tien Hsiao-Tzu, Xiao Ke ╳ Zi Han

Norhaizad Adam

, Joel Bray, Bunny Cadag, Michikazu Matsune,
12-14 August, 2020.
Production: Taipei Performing Arts Center, as part of ADAM 2020 online performance/art project [An Internet of Things].
take 1—Expanded Choreography
take 2—Participation and Situation
take 3—Theatre of Things
take 4—Expanded Cinema or Cinematic Performance
take 5—Musical and Sonic Exhibition
take 6—Lecture Performance

book one or all of the Takes via river@riverlin.art

Lecture on Performance :
The performance turn in contemporary art

Part lecture, part interview, part roundtable discussion, the online lecture Lecture on Performance, conceived by River Lin during the COVID19 lockdown of France, brings brings together his intersectional research and knowledge on Live Art and performance, essembling artists, curators, academics and beyond to meet, exchange and learn together.

Conducted by 6 takes, Lecture on Performance charts "the performance turn in contemporary art", examining how the notion of "performativity" and "performance turn" has impacted or applied to the realms of visual art, theatre, and dance among others.

Departing from the history and theory framework of art to case studies of contemporary artists' practice, River mixes languages and viewpoints from across visual and performing arts to perform and suggest a narrative context in flux and ways of rethinking the performative. Through case studies, in each thematic take, relevant artists have been invited as special guests to join the discussion and share their practice, performing the knowledge production from making.

The inauguration of the performance has been conducted in Chinese Mandarin, for gathering art makers from the Chines-speaking region. It's accomplished under zero budget and supported by generous sharings of guest artists and more than 300 participants from across Taiwan, Hong Kong, Singapore, Shanghai and beyond.

Each take of the program is now availble in

Chinese Madarin and English

for institutions of visual arts, performing arts and education to book and present as online live events/ learning programs.

--
Concept and Performance: River Lin
Premire: 31 March- 21 April, 2020
Special guest: Dick Wong (Hong Kong), Han Xuemei (Singapore)、Jimi Zhang (Taiwan), Snow Huang (Taiwan), CO-Coism (Taiwan), Shih Peiyu (Taiwan), Tseng Yenting/Kappa (Taiwan), Wenchi Su (Taiwan), Au Sow Yee (Malaysia), Lin Fang-Yi (Taiwan), Jinyao Lin (Taiwan), Chi-wei Lin (Taiwan), Ho Rui An (Singapore) and Wukang Chen (Taiwan).
關於表演的
線上講座表演 :
當代藝術的
表演轉向

關於表演的線上講座表演take 1—擴延性編舞
take 2—參與及情境
take 3—事物的劇場
take 4—擴延電影或映像表演
take 5—展覽聲響
take 6—講演

邀請單堂或全套講堂
river@riverlin.art
在法國應新冠病毒疫情鎖國及藝文活動取消期間,旅法台灣藝術家林人中發起線上講演計畫《關於表演的線上講座表演》。有點像講堂、有點像訪談、有點像圓桌論壇,彙整他近年的跨領域表演的創作、研究與知識,讓藝術家、學者、策展人等藝術工作者齊聚一堂學習交流。

以講談「當代藝術的表演轉向」為名,檢視「表演性」或「表演轉向」在視覺藝術、劇場、舞蹈等領域的觀念與體現。從藝術的歷史與理論框架出發,到多類藝術家作品案例研究,林人中試圖混合視覺藝術與表演藝術的語彙及視點,發展一種流動的敘事語境,操演跨領域表演的討論方法。

每一集他邀請藝術家朋友談述自己的創作脈絡並參與討論,這是為了進一步將思辨語境與知識生產的過程放置在藝術創作者的實踐裡。在六集節目中,林人中剖析了擴延編舞、參與式藝術、展演物件、映像表演、聲響藝術、講演等表演趨向。

首映以中文進行,擘畫亞洲華語藝術社群討論相關議題的空間。在零經費的條件下,第一季首映在藝術家來賓慷慨分享及超過三百位來自台灣、香港、新加坡、上海與會者的支持下完成。

《關於表演的線上講座表演》各集主題現開放教育與藝文機構預約,可作為公司教育訓練或公共項目的線上論壇活動。

--
策劃主講:林人中
特別來賓:黃大徽(香港)、韓雪梅(新加坡)、張吉米、黃思農、明日和合、石佩玉、曾彥婷、蘇文琪、區秀詒(馬來西亞)、林芳宜、林經堯、林其蔚、何鋭安(新加坡)、陳武康。
首映日期:2020.03.31-04.21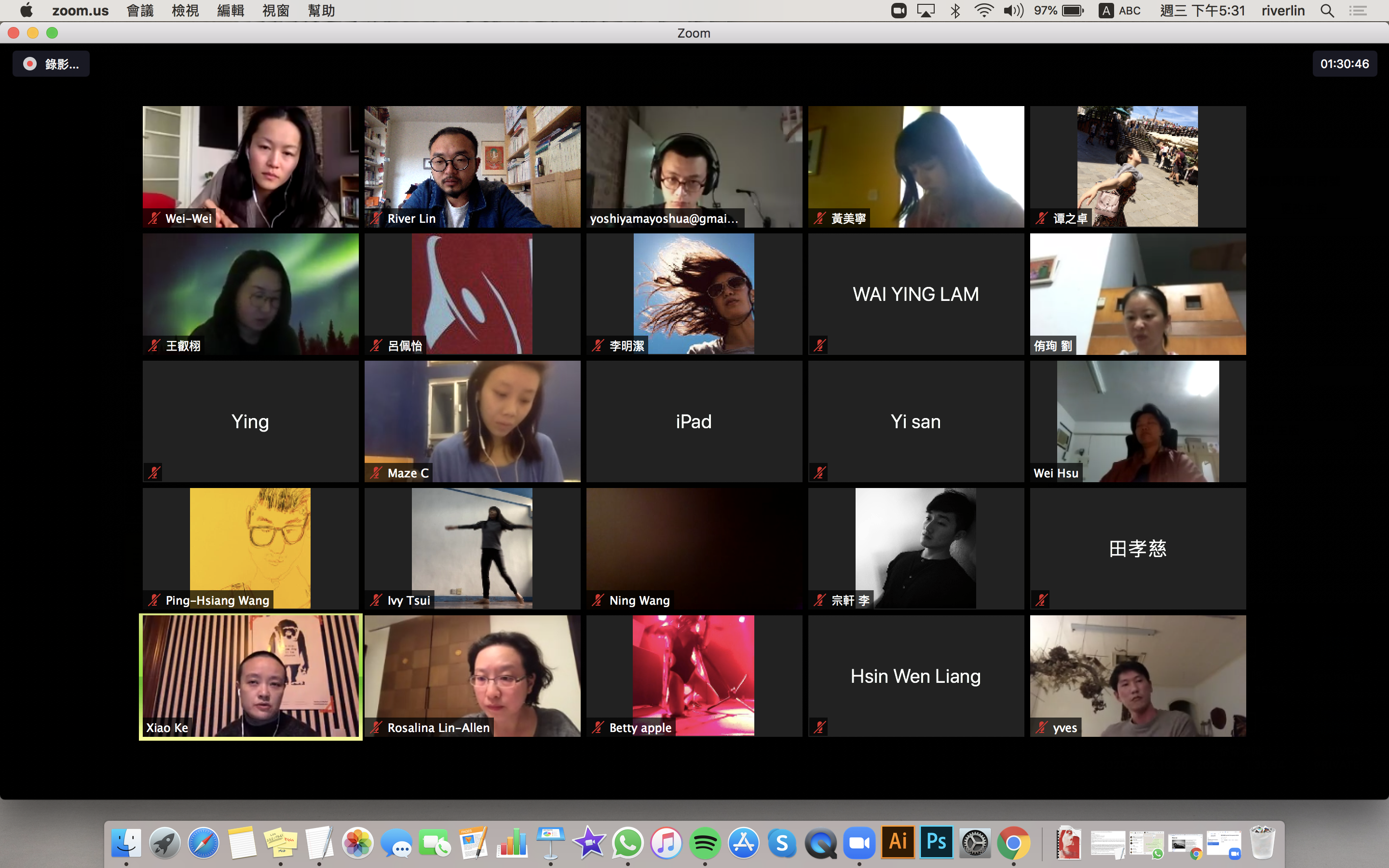 Sleeping in between Tehching Hsieh and On Kawara,
but at home
(2020)
concept, instruction, video: River Lin
performance: Shihya Peng

The text-instruction work is first presented by PERFORMANCE HOMEWORK . The video work is commisioned and presented by Live Art Development Agency, London.
Tehching Hsieh and On Kawara sleep and work at the same time. This DIY instruction-performance reenacts River Lin's work Sleeping in between Tehching Hsieh and On Kawara in a context of "working from home". Through staging alarm clocks with cycles of waking and sleeping, and transience and labour, audiences are invited to reflect how they spend time or are spent by time.

The original piece is positioned in between similar yet different notions of the practice of the artists Tehching Hseih and On Kawara. Their work results in exampary performances. It participates in and documents the progress of life and the construct of time. The primary action in this work is to repeat waking and sleep cycles through alarm clocks. This traps one in the incessant progress of time. The looping of the sleep-cycle deconstructs the idea of setting an alarm to signal time.

During the performance the boundary between work and rest is ambiguous. There is no clear beginning or end to your labor. The time alert seems to suggest that nothing is urgent anymore.