Art History on Escalators
(

2017/2021)
Concept & choreography : River Lin

With Ashley Chen, Shihya Peng, Bijia Yang, Lucien Reynes, Yilin Yang et Pedro Lozano Gomez. (Paris edition 2021)

With Yuju Lin (Taipei edition 2017)



People normally stand still and thier body becomes sculptural while taking an escaltor. When it comes to a set of up-and-down escaltors, the transport suggests a circle of time and staged catwalk.

Through reencating a series of poses, movements and actions of selected paintings, photographs, sculptures and videos that mark a spectrum of art history, this work proposes alternative ways of reading artworks and their history with flux, while selected images of different times travel in an endless loop. It also creates an encounter that museum visitors are invited to perform together and rethink the divide of art and the everyday.

The live installtion Art History on Escalators was first developed in the collective-happening project 8 days 2 Nights and 10 artists led by River Lin presented by the Taipei Fine Arts Museum in 2017. In 2021, the work takes over the escalators of and is presented by the Centre Pompidou in Paris, part of the event Tableaux Vivants.


︎
The list of visual texts in this performance

︎Works in the collection of Centre Pompidou:
Georges Rouault, Acrobat , 1913
Fernand Léger, Composition with three figures , 1931
Henri Matisse, Blue Nude II , 1952
Kiki Kogelnik, It Hurts with a Scissor , 1974-1976
Otto Dix, Portrait of Journalist Sylvia von Harden , 1926
Eli Lotar, Roger Vitrac, Alfred Jarry Theater , 1929 - 1930
Man Ray, Marcel Duchamp, Bronia Perlmutter , 1924

︎Other works:
René Magritte, The Son of Man , 1964
René Magritte, The Lovers , 1928
Sandro Botticelli, The Birth of Venus , 1486
Michelangelo Buonarroti, The Creation of Adam , 1512
Michelangelo Buonarroti, David , 1504
Auguste Rodin, The Thinker , 1880
Auguste Rodin, The Bronze Age , 1877-1880
Jean-François Millet, Des Glaneuses , 1857
Edvard Munch, Le Cri , 1893
Anonymous artist, Gabrielle d'Estrées and one of her sisters , 1594
Vincent Van Gogh, At the Door of Eternity , 1890
Valie Export, Smart Export , 1968
Yoko Ono, Cut Piece , 1964
Bruce Nauman, Self Portrait as a Fountain , 1966
Marina Abramović and Ulay, Imponderabilia , 1977
Hito Steyerl, How Not to be Seen. A Fucking Didactic Educational .MOV File, 2013
Portrait of Ai Weiwei
Yves Klein, The Leap in the Void , 1960
Tehching Hsieh, Time Clock Piece (One Year Performance 1980-1981)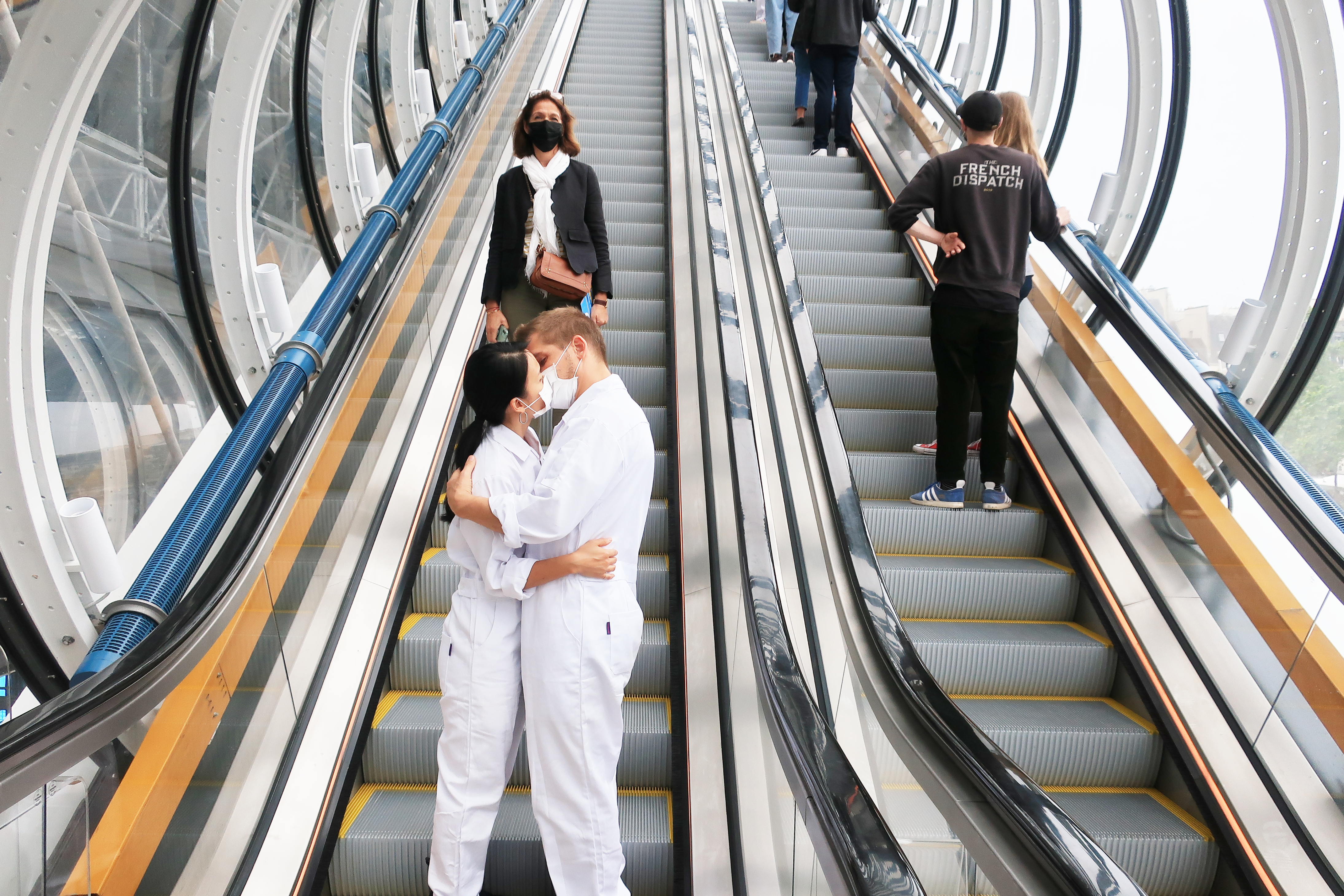 photo by Chang Wei (Taipei) / River Lin (Paris)
Dancing with Gutai Art Manifesto 1956
如果具体派宣言是一首舞譜
(2020)
Gutai, founded by YOSHIHARA Jiro in Ashiya in 1954, is one of the most remarkable artist
collec
tives and art movements in the postwar-Japan context for its pioneering, radical and performative approach and experimentation on art making. As Gutai Art Manifesto published in 1956 states, "Gutai Art does not alter the material, but brings it to life."

Through wearing light bulbs, passing through framed papers, moving on the mud, drawing by feet, throwing bottles of pigment, and sculpting smoke on stage, the Gutai artists have challenged boundaries of art, choreographed relations between objects and the body, and conceptually performed intersections of the liveness and visual art.

How Gutai's conception and practice would arguably chart the history of performance art and inspire a new lexicon of today's live art is a point of departure for River Lin to conceive this project "Dancing with Gutai Art Manifesto (1956)."

Transforming the Gutai Art Manifesto into a score and revisiting selected works of TANAKA Atsuko, SHIRAGA Kazuo, MURAKAMI Saburo and SHIMAMOTO Shozo among others, this project attempts to replay a series of actions, movements and happenings as expanded choreography straddling painting, sculpture, installation, participation and performance via a collective process and rehearsal.



1954年,吉原治良以關西為基地集結一群年輕藝術家創立了具体派(具体美術協會)。隔年他們舉辦了兩檔展覽,遂於1956年發表了具体派宣言。吉原指出,「具体派不改裝物材,而是讓它們活現起來。」為探索「活」的藝術,藝術家們穿上燈泡、穿破紙牆、在泥巴上打滾、以雙腳作畫、拋擲顏料、在劇場舞台上噴放煙霧,透過實驗肉身與物件之間的各種交互運動,操練視覺藝術脈絡下的表演觀念與實踐。

具体派的展演路線顛覆了現代主義式繪畫姿態,於彼時社會文化情境掀起一陣炫風,開創日本戰後藝術前衛美學的新頁。而今,具体派是否可能架構出一個行為藝術史的座標,在當代現場藝術實踐的進程中啟發一種新的動作語彙,成了本計畫的創作與研究起點。

在《如果具体派宣言是一首舞譜》的後設情境裡,林人中將把原宣言輸出、演繹為動作譜。透過集體排演,同時返視田中敦子、白髮一雄、村上三郎及嶋本昭三等核心成員的作品文本,引發一系列介於偶發、繪畫、雕塑、裝置、參與等觀念之間的擴延性編舞。

///////////////////////

Cocept, choreography, installation: River Lin
Artistic collaboration and performance: Tien Hsiao-Tzu, Chen Jun-Yu, Chien Shih-Han, Hsu Jia-Ling, Chang Yun-Chen, Chen Hsin-Hung, Eric Tsai, Li Wen-Hao, Chen I-Chien.

Duration: 5 hours
Premiere: 18 November 2020 at C-Lab Taiwan, part of the exhibition Re:Play.

///////////////////////

Production: Taiwan Contemporary Culture Lab and NPO Dance Archive Network.
Presentation: Re:Play and TOKYO REAL UNDERGROUND—Tokyo Tokyo Festival Special 13.
Special thanks: KATO Mizuho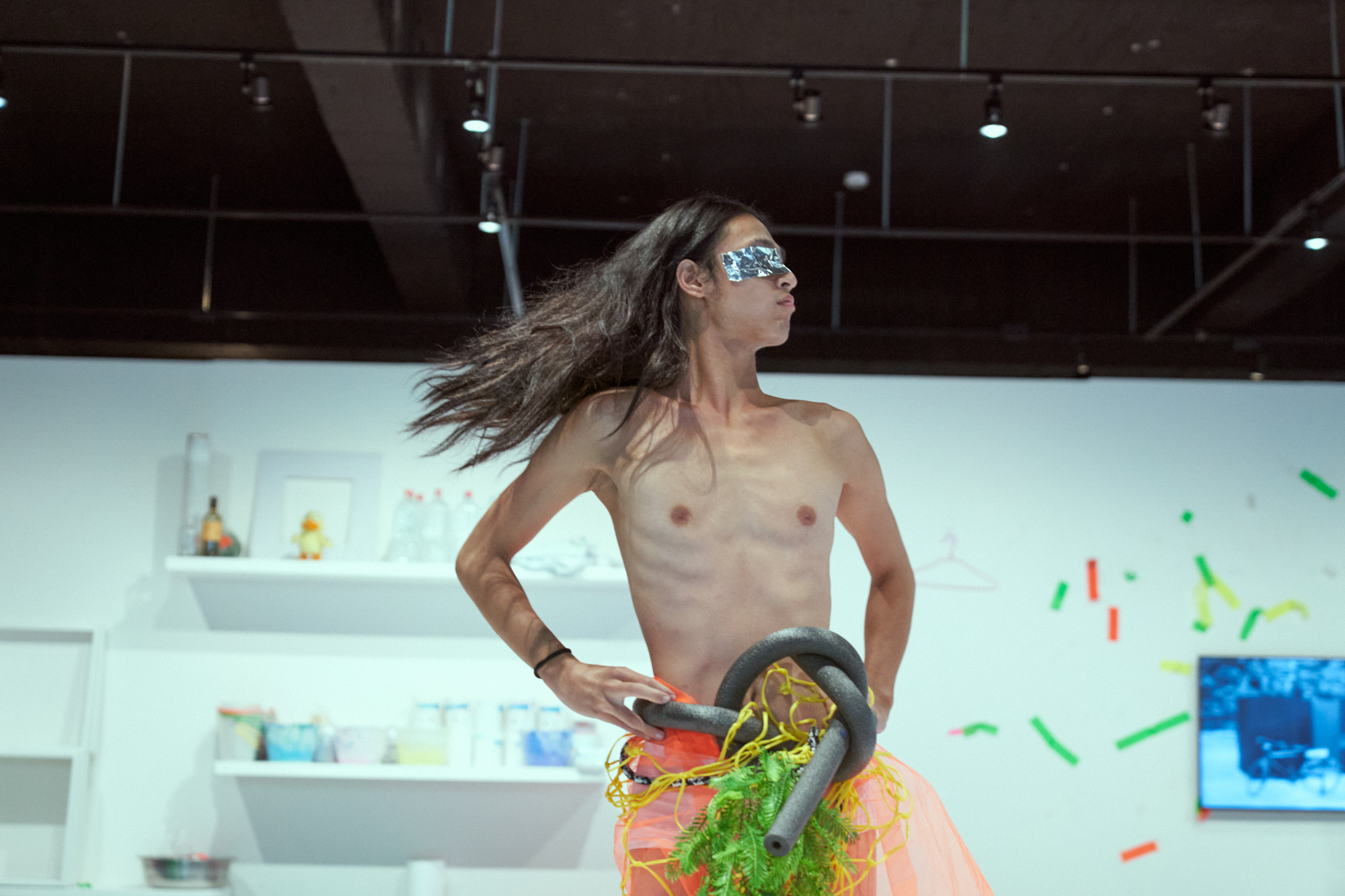 My body is a queer history museum
(2019)

concept & direction : River Lin
performance: Tseng Chih-Wei, Chang Ko-Yang, Hsu Sheng-Han , Chien Shih-Han, Huang Gia-Yeh, Sherwin Chimera, Lee Song-En. commissioned and presented by Kuandu Museum of Fine Arts, Taipei.
curated by Cheng-Ta Yu

7-8 December, 2019.
duration: 4 hours, audiences are allowed to come and go at any points.


The project considers that the body, in the context of contemporary art, as a museological site in which memories and identities have been continuously collected and formulated as an embodiment of the historical and social process. Bringing together a group of performers who identify themselves as heterosexual, homosexual, female, male, fathers, sons, daughters and beyond, "My body is a queer history museum" opens up a breadth of gender politics and performs its fluid status.

Through a 4-day workshop, the performers have been mentally and physically naked to exchange and learn from one another. It examines issues ranging over what the equality means, the oppositional complexity between religious and same-sex-marriage views, the discovery of fixed or fluid sexual orientation, the good or bad sexual experiences, and the relevance between sexuality and gender among others. They/we then have got to understand selves in the social reality during the rehearsing progress.

This project thus shows discursive progress from the concerns above. Conflating sculpture, choreography catwalk, dragging, dancing, story-telling, karaoke, workshop, and conversation, it becomes a durational performance and live-exhibition. As a socially-engaged situation, it decodes and negotiates the notion of Western art history, pop-cultural phenomena and educational and social mechanism through the queer lens. Audience members are also invited to act as participants and become a crucial part of this exhibition.

In the name of investing the historical progress, My body is queer history museum actually personifies where we all might are, and draws intersections of the queer practice and methodology of exhibition-making.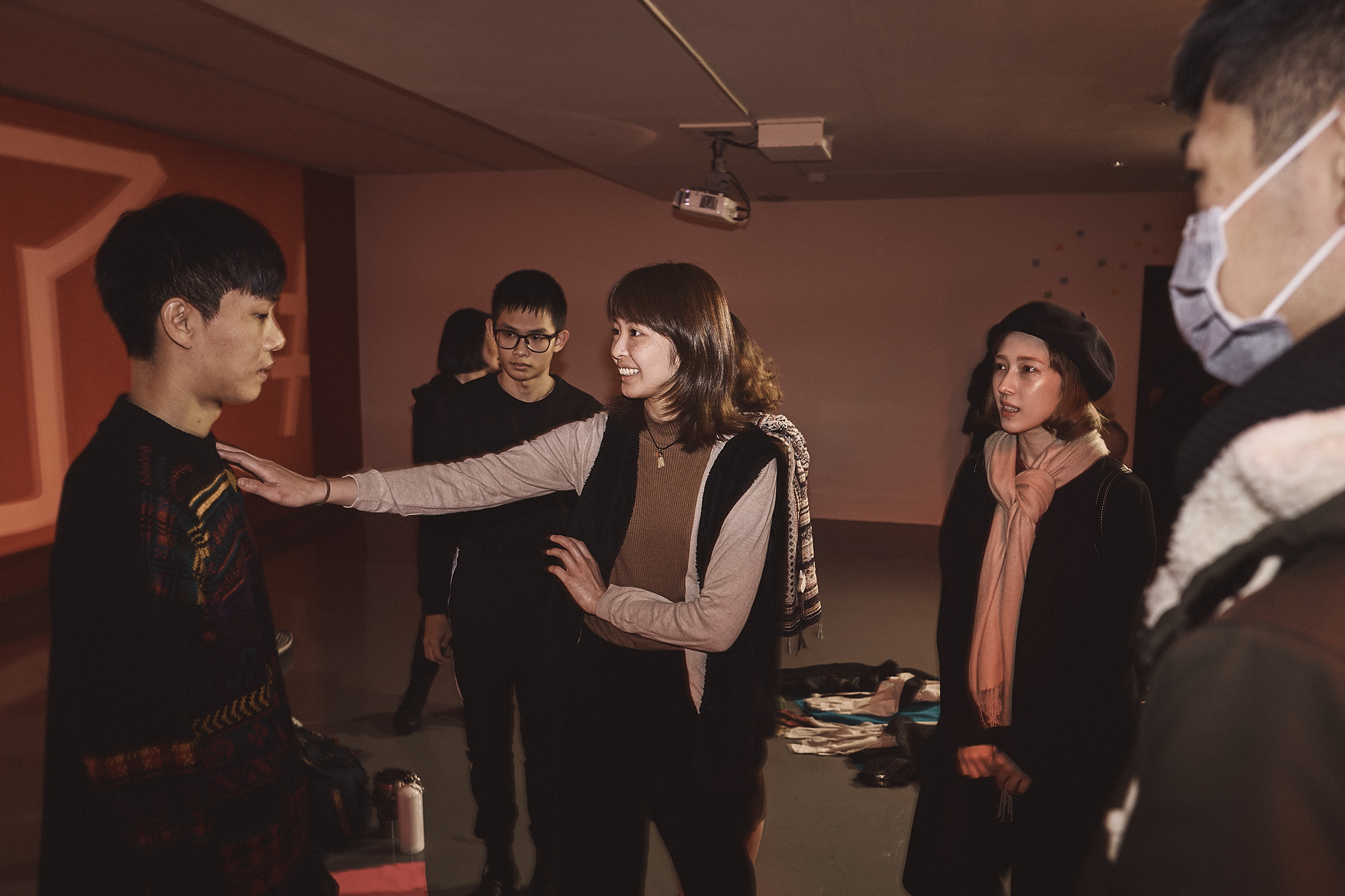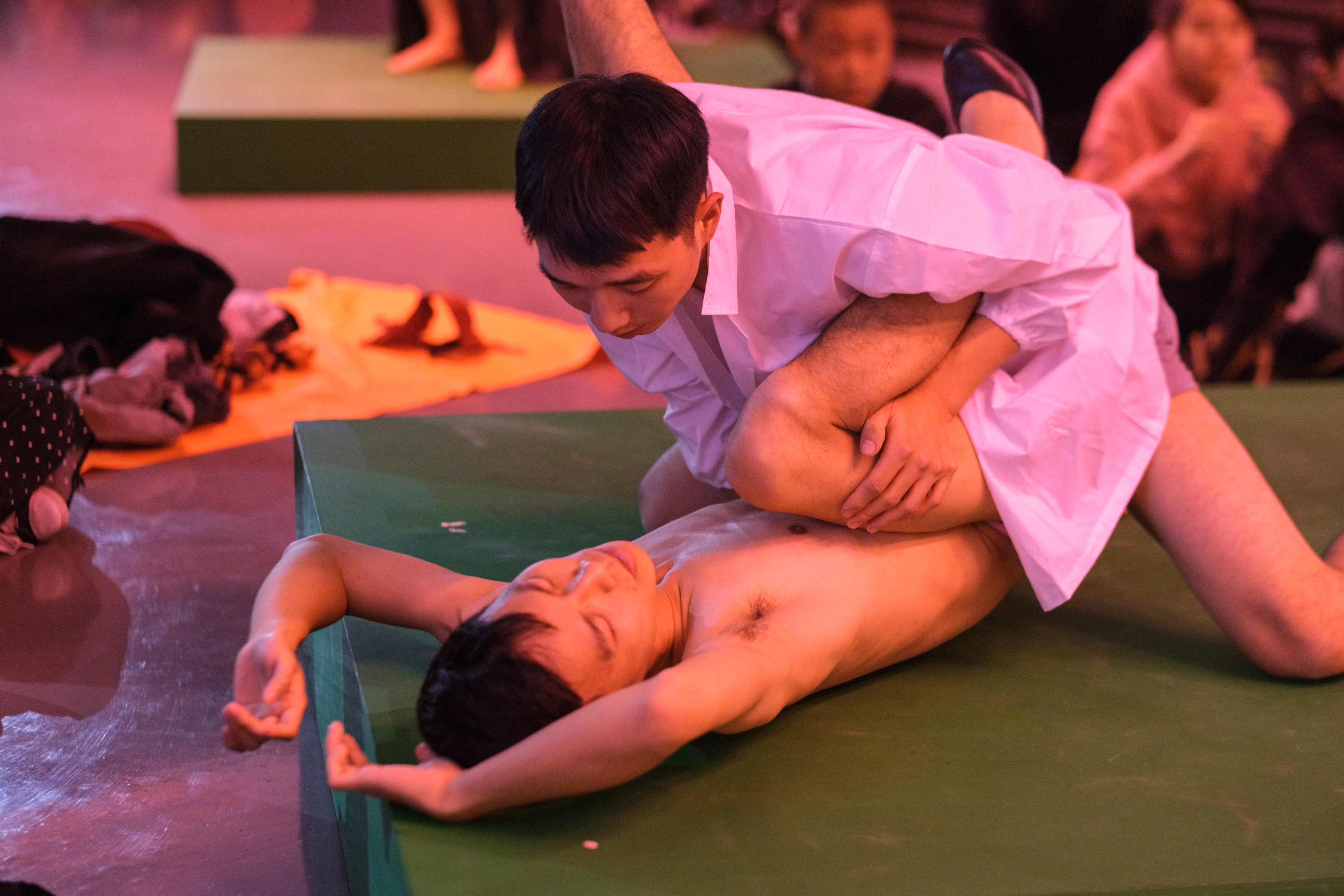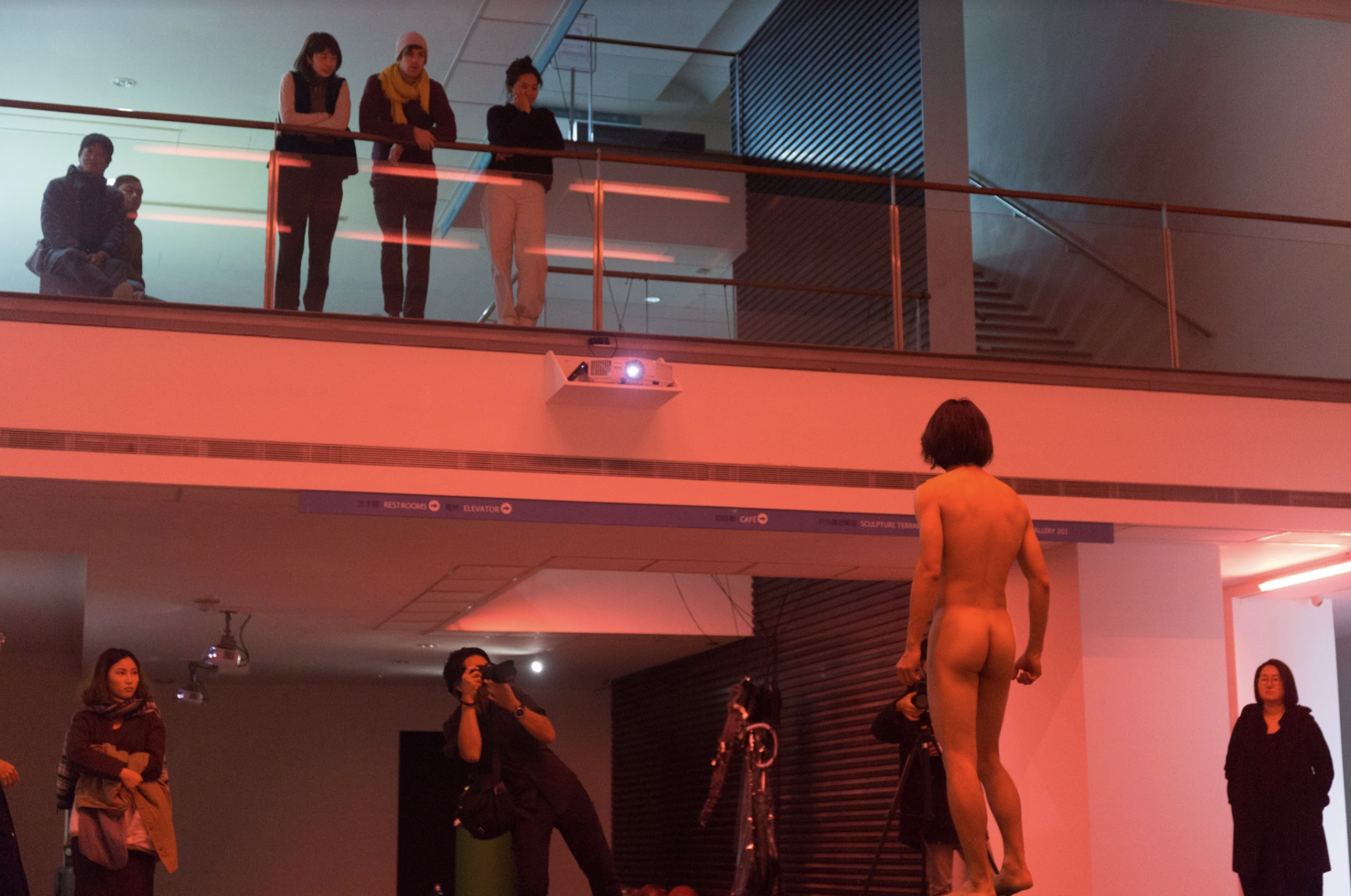 photo by You-wei Chen, Wei Chang, and Kuandu Museum of Fine Arts.
20 Minutes for the 20th Century, but Asian
20 Minutes for the 20th Century, but Asian is a live exhibition investigating identities, memories and historical embodiments of the dance history in the last century. 



The title and format of this work parody artist Tino Sehgal's early work 20 Minutes for the 20th Century (1999) that menifests a museum of dance history through a collage of 20 iconic choreographies of Merce Cunningham, Pina Bausch, Xavier Le Roy and Jérôme Bel among others.



This "but Asian" piece however does not reenact scores of Asian choreographers. It actually negotiates and questions what the notion of "westernized" modern dance has been translated and integrated into " the Eastern" while looking back the colonial history in the Asia-Pacific region.



The dancer performs discursive progress from the collective body and memory to the individual through a choreographic transformation of inter-cultural embodiment, drawing a (im)possible lexicon of what "Asian" might mean.

Concept & choreography : River Lin
Artistic collaboration: Lin Wen-Chung

Performance : Lin Wen-chung (Taipei and Kaohsuing in 2016; Valenciennes, Paris, Hong Kong in 2018; Dubai in 2019) ; Wen Zu-Wei (Shanghai and Taipei in 2019), and Peng Shih-ya (Work-in-Progress preview in Paris 2016)

- Vector#1 Exhibition of Experimental Live Art, Singapore, 2021
- Camping Asia, Taipei, 2019
- Ming Contemporary Art Museum, Shanghai, 2019
-

Asia Contemporary Art Week - Field Meeting 6

, Alserkal Avenue, Dubai, 2019
- Body Dance Vision project, Cattle Depot Artist Village, Hong Kong, 2018
- Camping, Centre National de la Danse, Paris, 2018
- Festival Cabaret of Curiosities, Le Phénix, Valenciennes, 2018
-

Taipei Biennial 2016


-

Weiwuying Arts Festival


-

Asia Now: Paris Asian Art Fair 2016

(work-in-progress preview)
---

The research and development of "20 Minutes for the 20th Century, but Asian" is kindly supported by the National Culture and Arts Foundation of Taiwan.*

The work-in-progress preview is performed by Paris-based Taiwanese dancer Shih-ya Peng.

This work at Taipei Biennial 2016 performs at the exhibition space of "Five Hundred Lemon Trees: An Organic Archive", the solo show of HUANG Po-Chih at Taipei Fine Arts Museum.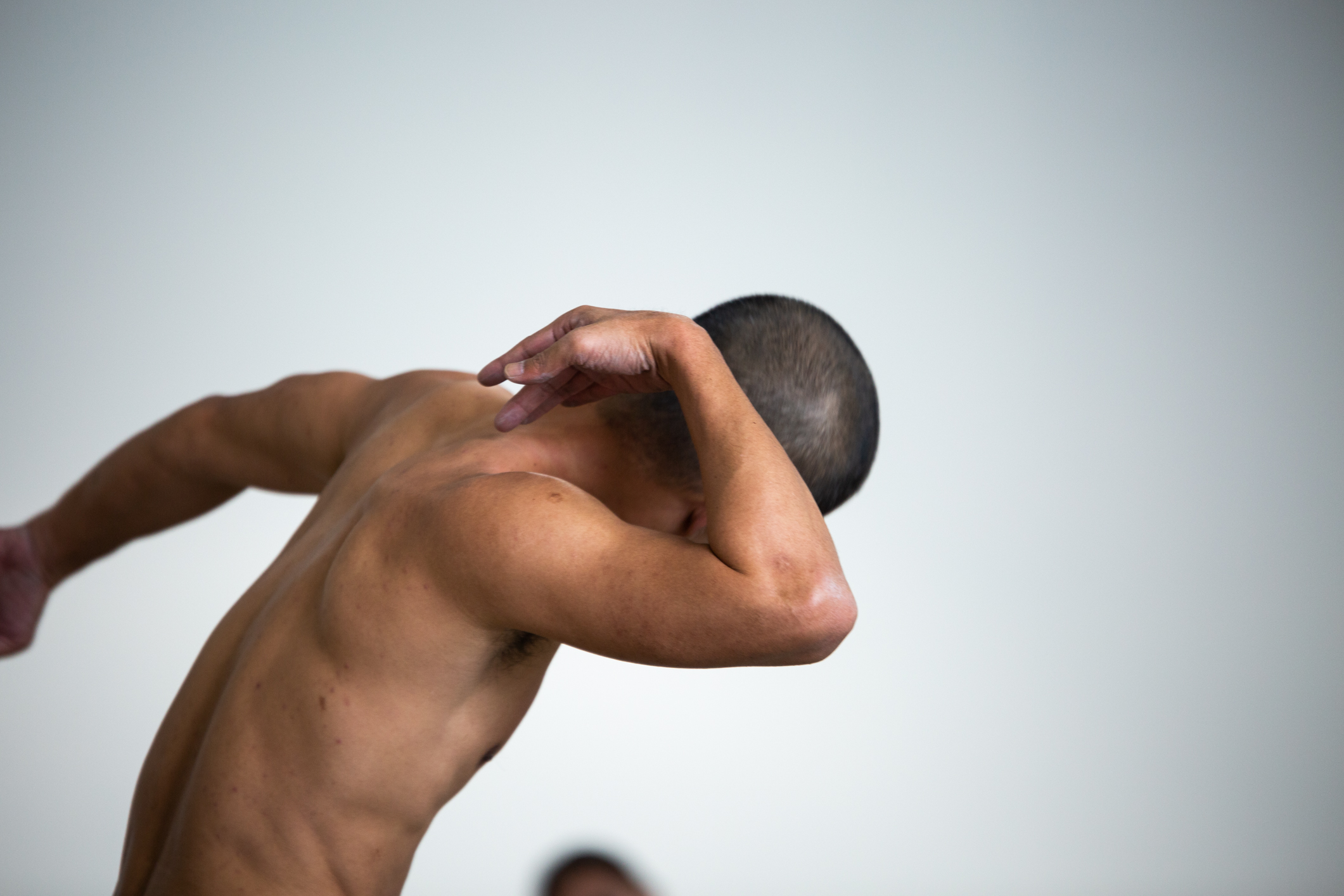 photo by Asia Contemporary Art Week (Dubai, 2019) , River Lin (Paris, 2018), and Chen Youwei (Taipei, 2016)
Huxian Memorial Hall
(2019/2020)
Concept, video, photography, installation and performance: River Lin
model:Tseng Chih-wei

- part of the exhibition Mulan Make Up! , presented by Taiwan Academy Los Angeles, 2019. Curated by Yu Cheng-ta.
- 2020 Taiwan Biennial, curated by Yao Juichung

Huxian, the god of the fox in ancient Chinese legends, is viewed as male/female/human/animal and known for performing the fluidity of gender, sexuality and eroticism. Huxian's pronoun is [they/them/their]. Nowadays, people seeking love worship them.

Through performance, video, photography and installation of the work Huxian Memorial Hall, River Lin creates an altar and a fiction about Huxian's incarnation of LGBTQ figures and activists who have passed away by will or against will, from across Asia in the 20th Century and today.

Taiwan, in 2019, has been comparatively fortunate becoming the first Asian country to legalise same-sex marriage. However, many of the LGBTQ community in Asia still suffer. To remember "them", audiences are invited to concern that all of the names in this artwork who have paved the way of the freedom and 'love wins' that we hold today.

Memorial figures and names in this project include:

Leslie Cheung, 1956-2003, Hong Kong (張國榮)
Qiu Miao-Jin, 1969-1995, Taiwan (邱妙津)
Tien Chi-yuan, 1964-1996, Taiwan (田啓元)
Yeh Yung-chih, 1985-2000, Taiwan (葉永鋕)
Mishima Yukio, 1925-1970, Japan (三島由紀夫)
Yato Tamotsu, 1928-1973, Japan (矢頭保)
Ko Masaki, 1983-2013, Japan (真崎航)
Mickey Chen, 1967-2018, Taiwan (陳俊志)
Yun Hyon-Seok, 1984-2003, South Korea (尹賢碩)
Lino Brocka, 1939-1991, Philippines
Geoffrey Bawa, 1919-2003, Sri Lanka
Bhupen Khakhar, 1934-2003, India
Hande Kader, 1993-2016, Turkey
Tseng Kwong-chi, 1950-1990, USA / Hong Kong (曾廣智)
Xulhaz Mannan 1976-2016 ,Bangladesh.
Tonette Lopez, 1976-2006, Philippines.
Paddy Chew, 1960-1999, Singapore (周豐林)
Chisho Takaoka, 1896-1995, Japan (高岡智照)
Freddie Mercury, 1946–1991, UK / India.
Ismail Merchant, 1936-2005 , UK/ India
Kim Ji-hoo, 1985–2008, South Korea (金智厚)


A very brief theirstory of Huxian
paper printed on wall, part of Huxian Memorial Hall
text by River Lin
Huxian (Fox Immortal or Fox Fairy), are ancient deities from the Chinese region. Huxian's origins contain factors of god and animal. And importantly, Huxian physically appear as both males and females and beyond. Huxian govern and protect agriculture and its natural ecology, blessing human productions of the everyday life. 



Huxian have no family, but lovers. At the end of the day, no body confirms if they have a certain partner. They have a hard emotional life. Huxian are not interested in other deities and always falling in love with humans. The problem is, human beings usually have not that much sensibilities and the intelligence to appreciate Huxian's love. Fear, misunderstanding, ignorance and disability of inclusive love have pushed Huxian away.


Huxian eventually realize that they need incarnation. This seems to be the only way to fix the broken relationship between humans and Huxian. In a physical world, with the compassion, Huxian would feel what humans feel, experience what humans have been through, and even suffer from love and injustice like a human.


In the 20th Century, Huxian have had several reincarnations of human figures. Some are still alive today, some passed away. And, some are vibrant and talented to be notable as they are recognized as "queer" figures in the modern society. In the human world, the physical reincarnations of Huxian have been involved in the notion and practice of so-called queerness or LGBTQ. 

In the East Asia, for instance, there is one born in Taiwan, a pioneering writer on today's Chinese lesbian and feminist literature. There is one born in Hong Kong, a pop-singer and movie actor who has remarkably performed the gender fluid through his artistic practice, and influenced the queer voice of the Chinese entertainment industry in particular. There is one born in Japan, a legendary writer in the Post-War time who has been fascinated to perform his physical perfection of body. And another one in South-Korea, a poet who has dedicated himself to the social movement of LGBT right. In Turkey, there is a young female LGBT activist murdered. They have all left the world, with an unforgettably cultural, political and artistic legacy.


Today, Huxian, and their incarnations who are born with life missions still continuously perform the belief and power of love, justice and inclusivity.