Invisible Portraits



(2019/2020)
concept, drawing & performance : River Lin


Medium: Oil / Ink / Charcoal on paper
Dimension: 30 x 30 cm

Commissioned by Capsule Shanghai at the exhibition *

Right beyond your eyes

(curated by Sarah Faux), 2019.

Restaged by

Chi Wen Gallery

at the exhibtion *Every man is an artist, 2020.
- National Taiwan Museum of Fine Arts, Taichung, 2020
- Chi-wen Gallery, Taipei, 2020
- Negation of you, Nanhai Gallery, Taipei, 2019 - Tank Art Festival, Tank Shanghai, 2019
- Capsule Shanghai, 2019


While drawing a portrait, how to depict one's feature beyond the physical figure? And what will happen if sketching without seeing the physical face and body?

In a one-on-one setting, River Lin draws portraits of gallery visitors while blindfolded, sensing a person's presence through body contact, conversations or simply "gazing" in silence. The impossible task becomes performative, and during this situation, it suggests that ways of viewing, objectifying and representing between the artist and the audience become porous. It might also look like a medium and a consultee in conversation mysteriously in a context of immaterial labour.

Each drawing process runs for 10 minutes with one participant at a time. Portraits of the participants will be part of the exhibition after the live performance.

The Invisible Portraits is first commissioned by Capsule Shanghai gallery in 2019 and re-staged by Chi Wen Gallery in Taipei in 2020.

*The performance-based drawings are collectable via Capsule Shanghai (Shanghai) and Chi Wen Gallery (Taipei).
photo by Capsule Shanghai (Shangai) and
Chi Wen Gallery (Taipei)
Bone Setting Service
(2018)
concept, drawing & performance : River Lin
Tempting Failure - London's Biennial of International Performance Art and Noise 19-21 July, 2018)

Bone Setting Service is an one-on-one performance with massage and participatory drawing.

Traditionally, in Chinese Medicine, bone setting is a holistic care process to cure the balance of the skeleton, muscles and joints, for re-setting the wholeness of a body. And the notion of the wholeness of a body relates to the "Chi" and the body meridian.

Based on this idea, River Lin develops this performance to demonstrate the relationship between pain or any kinds of discomfort and the Chi, inviting audiences getting to know and find out which meridian of their bodies needs to be re-set.



One audience member lies down on a piece of paper, and River Lin draws the shape of her/his body. The audience member then is to investigate her/his body meridian and draw marks or symbols to reflect the unsettled body. Followed by the conversion with participants' images, River then draws again how the physical or emotional pain connects with a specific meridian of the body and its related acupoints. Finally, the audience member receives the bone setting massage.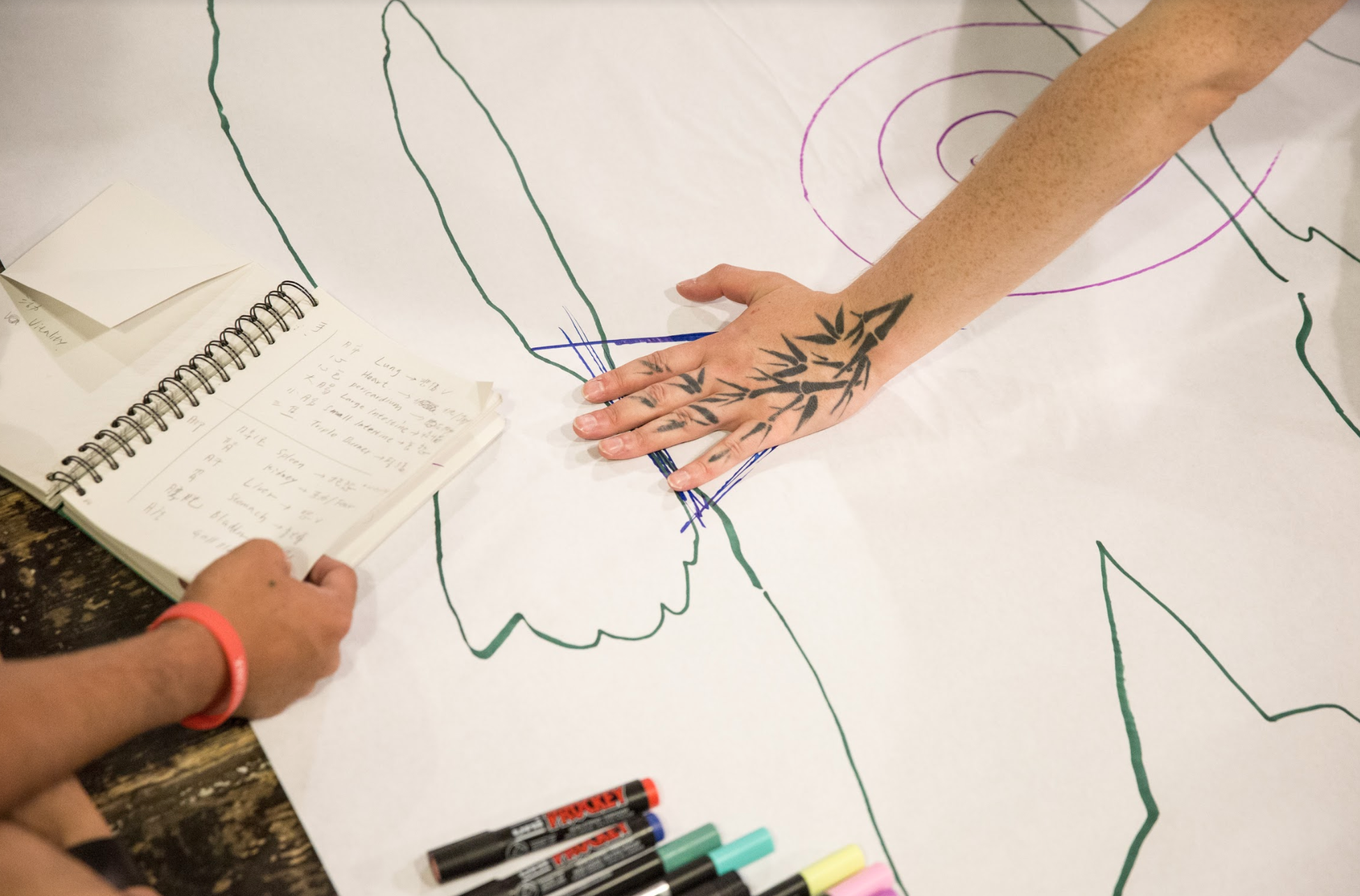 photo by Julia Bauer, Tempting Failure 2018.



concept, installation & performance : River Lin
mixed media. dimension variable.

- Sydney Contemporary International Art Fair, Sydney, 2018
- M+ Live Art: Audience as Performer, M+ Museum, Hong Kong, 2018
- ANTI Contemporary Art Festival, Kuopio, 2017
- Liveworks Festival, Sydney, 2016



Commissioned by the Liveworks Festival 2016, Cleansing Service is a performance-based installation with one-on-one encounter. Equal parts washroom, baptism and conversation, Cleansing Service invites audience members to remove traces of dirt, guilt, regret and the remnants of the day in a shared act of purification.

A visitor is invited to enter the installation space surrounded by more than one hundreds of bottles of water individually labeled with different word. The visitor picks up a bottle with a sceptic word that is connected to his/her personal situation physically or emotionally and at the same time he/she would like to wash away. The artist washes the visitor's hands ritualistically. The artist drinks the unclean water as a replacement.

As these ablutions take place, Cleansing Service examines the relationship between the body and ritual, bridging the sacred and the everyday. River Lin transforms the medium of water—with its historical links to healing and cleansing rites—in a private, intimate, and transcendent exchange.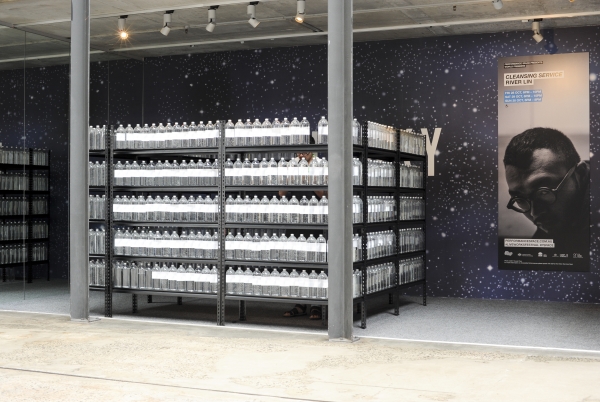 photo by Heidrun Lohr, Liveworks Festival, Sydney, 2016. CPAK Studio, M+ Live Art: Audience as Performer, Held at the Goethe-Institut Hong Kong, 2018.
Encounter
Project
(2016)
A solo exhibition of River Lin
with guest artists: Nat Niu, Lin-Wei Lung, Tien Tan, Kaleng Ko

15 January - 06 February 2016
at Taipei Artist Village
about the exhibition:
What would you like to experience and take from visiting an exhibition, if there is no artwork being exhibited but an artist waiting for you?

The encounter between you and the artist will be the work itself.

Encounter Project: The exhibition of Our Own, the solo show of River Lin, will be presenting the conception of the artist's recent research and practice of performance and live art in Europe, drawing the relationship between the audience, performance and the spatial-temporal. During the exhibition, one audience member, per time, is invited to perform and collaborate with the artist. They might be listening a song, having a walk, kissing each other or doing nothing, depending on what leads at first sight. This will be the work/ performance/ exhibition of their own.

instruction:
1. There is no slot for this exhibition/performance, reservation is not required. 2. The exhibition space is accessible for one audience member per time.3. The duration of performance / interaction could be as short or long as you and the artist like under the limit of 20 mins. 4. Please queue if needed.5. The exhibition / performance might contain nudity.6. During the exhibition, you might be encountering guest artists.

the artist statement:
This is a performative exhibition or living exhibition, where 'performance' and 'exhibition' construct and interpret one another. It means, there is no artwork such as installation, video or painting exhibited but performance, immaterially, as body is the medium I work with. The performance/ exhibition will be presenting an encounter of one audience member and the artist in an empty space. How they meet and spend time would be the work itself.

I am trying to question throughout this work as follows. 1) how to consider the relationship between the audience and exhibition space, exhibition itself, and artwork, and the consideration is a creation meanwhile. 2) How live art or performance unconventionally unfolds dialogues and shifts ways of seeing in the institutional realm. 3) How to explain and imagine a performance art work to the public which could not be documented and archived. It's therefore what Encounter Project: The Exhibition of Our Own looks at.

There is no any other in the exhibition space except one audience member and the artist. They are both performers and spectators in the performance, and their positions are going to become shifting, ambiguously. This exhibition is also a long-durational performance, the notion of seeing performance as time-base art would be foregrounded. The audience is invited to enter the space, staying as long or short as they like. The artist is constantly encountering every individual. It is a ritual.

My performance here is not to perform, and performing nothing is the performance itself. Pushing the boundary of something well-defined is the fascination of mine, as well as drawing the bodiness between dance and performance art, and experimenting the methodology between exhibition and performance making. Performing the ephemeral, for me, is the vehicle to transform those lines from solid to dotted.

A reminder of the hurt but also the healing'
-Lyn Gardner, The Guardian.

concept & performance : River Lin

- Manifesta Biennial 11 (Cabaret Voltaire), July, 2016
- Rapid Pulse International Performance Art Festival, June, 2016
- Rockbund Art Museum, Shanghai, April, 2016
- Chetham's Library, Manchester, July, 2015
- 1012 Gallery, Brussels, July, 20157.5 Club, Paris, June, 2015
- Buzzcut Festival, Glasgow
, March 2015
- SOMA Gallery, Berlin, December 2014 (work-in-progress version)


How do you consider kissing as a social interaction in everyday experiences?

Conventionally, when you kiss a part of a child's body that hurts, you tend to make it feel better by kissing it, saying as the idiom 'kiss it better'. Kissing thus seems to be considered an action to end pain meanwhile bridging something contrary. However, can a wound be removed by kissing, and what if the pain is invisible emotionally? 



Kiss it Better aims to explore the meaning behind the cultural convention itself. It is an one-on-one performance revolving around a question posed to the audience: which part of your body has been recently hurting, feeling uncomfortable, or injured PHYSICALLY or EMOTIONALLY? While the audience member points out the specific part, River Lin drinks the merbromin and give it a kiss with his blood-red lips.

During the process, the boundary of intimacy and public between the performer and the audience has been shifted, the connection of emotional and physical pain has been reviewed, and the invisible pain of one's own has been marked as the visible wound after receiving this kissing treatment.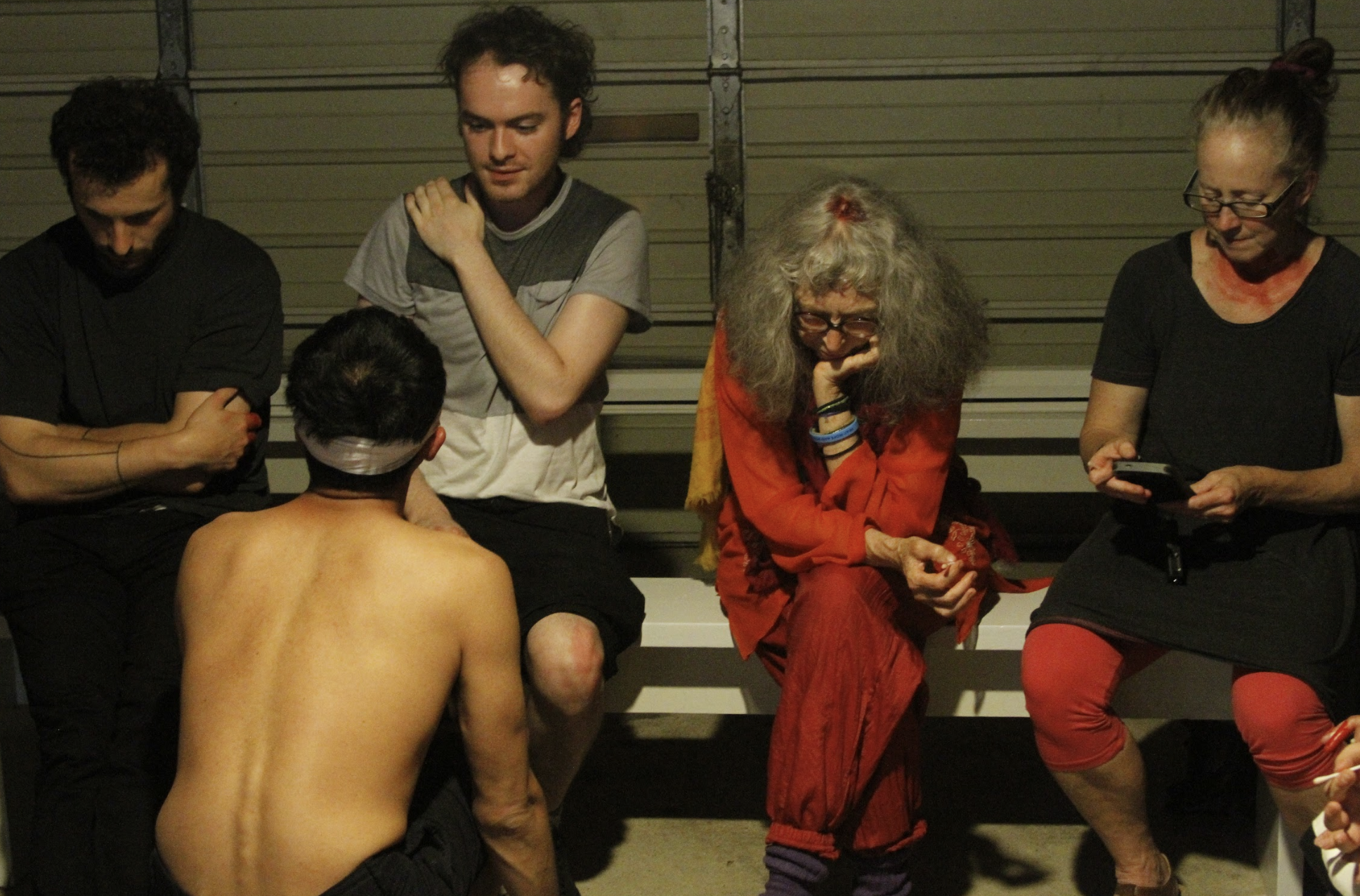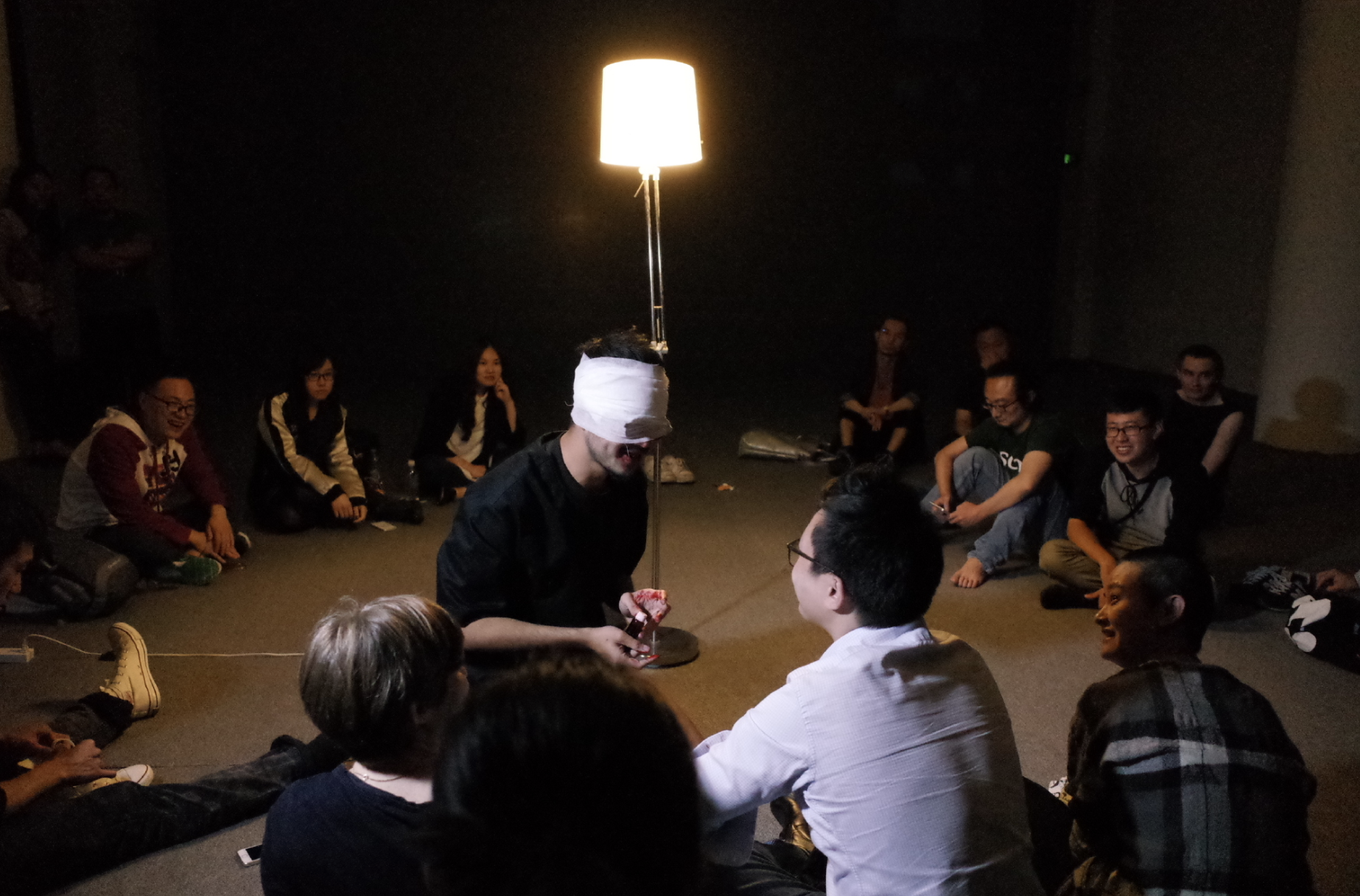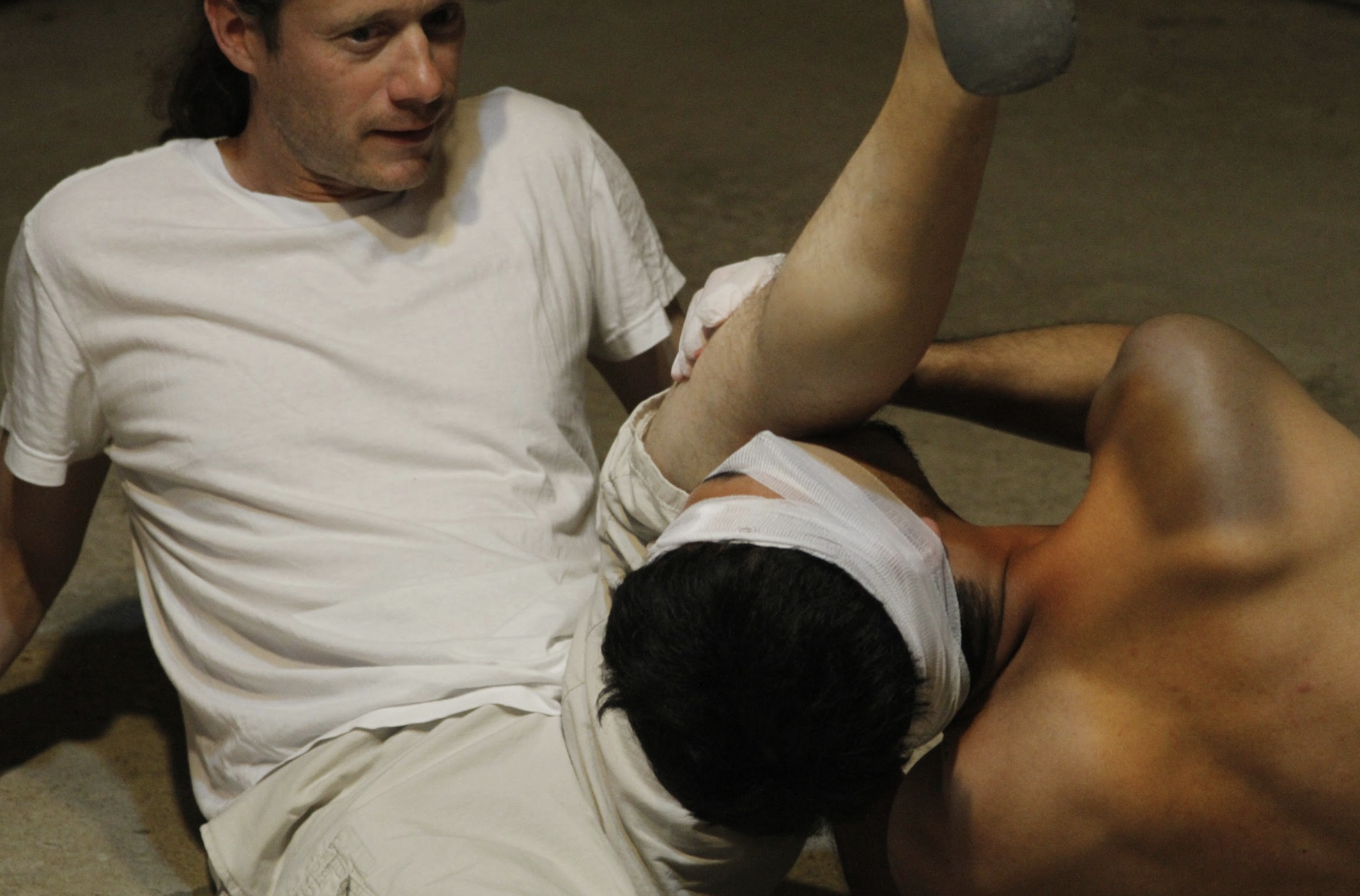 photo by Julia Bauer, Buzzcut Festival, Glasgow, 2015 /
Jeremy Sublewski, Rapid Pulse International Performance Art Festival, Chicago, 2016 / Rockbund Art Museum, Shanghai, 2016